The AirPod Industrial Air Cleaner is a cost-effective, user-friendly industrial air filtration system for fine, airborne dust. The free-standing modular air cleaner offers a choice of panel filters, depending on the specific needs of the application. The AirPod provides ambient air filtration for processes such as grinding, sanding, surface finishing, woodworking, metal fabrication, and chemical / powder processing, and odors.
Features & Benefits

Flexibility:

 AirPod modules may be stacked one, two, or three high, providing as much filtration capacity as needed.

Versatility:

 The AirPod I comes standard with casters allowing the unit to be moved to the dust source with ease. The larger units can be easily positioned within the work area, each requiring a small 31" x 31" footprint.

Maximized Filter Surface Area:

 Each AirPod module features standard panel filters on all four sides.

Efficient Filtration:

 Standard filter has MERV 11 efficiency (98% at 1.0 to 3.0 microns) with UL® Class 2 flame-retardant filters; other MERV and AD/carbon filter configurations are also available.

Easy Maintenance:

 Fully visible, easy-access filters simplify monitoring and replacement.

Low Cost of Operation:

 The AirPod uses standard disposable filters and requires no compressed air.
Specifications
Nominal Air flow:

 2500 CFM (3/4 HP), 5000 CFM (3HP), 4000 CFM (3HP with AD after-filter).

Construction:

 16 ga. Welded zinc-coated steel, powder coated cabinet. Acoustical lining in plenum and blower compartment.

Blower Pkg (HP):

 AirPod I: 2-speed forward curve, direct drive; AirPod II & III: Dynamically balanced, non-sparking, motor/blowers. (Optional 2-speed motor/blower available for AirPod II.)

Noise Level (dBA):

 68 (3/4 HP), 77 (3 HP).

Electrical:

 AirPod I, standard: 115/1/60, 11.4 amps, 3/4 HP; AirPod II & III, standard: 208-230/460/3/60, 7.8-7.2/4 amps, 3 HP; optional: 230/1/60 11.7 amps, 3 HP.

Weight (lbs):

 AirPod I: 312, AirPod II: 394, AirPod III: 455
Dimensions
Width:

 AirPod I: 62.50", AirPod II: 80.50", AirPod III: 104.50"

Height:

 31.00"

Depth:

 31.00"

Height of each AirPod module:

 24.0"

Height, AirPod base:

 6.0"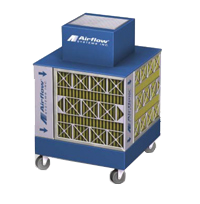 Click pictures above to enlarge