Features & Benefits
Complete, self-contained unit: Economical; immediately functional.
Direct-Drive Blowers: Higher static pressure, longer filter life and greater reliability; spark-resistant; no belts or pulleys to replace.
Non-electrostatic operation: High reliability, low maintenance.
Ultra-Seal® filter mounting: Eliminates contaminant bypass of filters.
Vibra-Pulse® Filter Cleaning System: Cleans filters 75% more effectively than reverse pulse systems.
Auto-clean Off-line Filter Cleaning: Automatically cleans filters when unit is shut off.
Compressed Air Regulator
Dust Drawer: Easily remove external dust drawer with positive level lock.
Options
Pressure Gauge Kit: Indicates when filters require cleaning.
Block-Off Filter Cleaning: Vibra-Pulse® system cleans while unit is in operation.
HEPA High Efficiency After-Filter: Provides 99.97% filtration efficiency.
Absorption Module: Charcoal after-filter removes gases and odors.
Custom Cartridge Media: For specific applications.
Hopper with Floor Stand: For 5-gallon pail, 20-gallon drum, or 55-gallon drum.
Specifications
Construction: 12 ga. steel cabinet, powder coated
Blower Pkgs (HP): 3.0 - Radial; 5.0 - Radial; 5.0 - Backward Incline; 7.5 - Backward Incline
Noise Level (dBA): 90/78 with silencer (3.0 HP); 95/80 with silencer (5.0 HP, Radial); 84/75 with silencer (5.0 HP, Backward Incline); 84/75 with silencer (7.5 HP, Backward Incline)
Electrical 3.0 HP - 208-230/460/3/60, 6/4 amps; 5.0 HP - 208-230/460/3/60, 12.6; 7.5 HP - 208-230/460/3/60, 17.2/8.6 amps
Dimensions
Dust Drawer Model: Width: 32.00"; Height: 115.00"; Depth: 42.00"
Hopper/Stand Model: Width: 44.00"; Height: 165.00"; Depth: 49.00"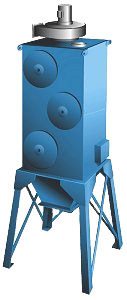 Click pictures above to enlarge