Easy Bench (Sit Down) Downdraft Table
Features & Benefits
Maximum Comfort: Designed ergonomically with standard desk height and full leg room to reduce operator strain and fatigue and optimize productivity and efficiency.
Streamlined Construction for Ease of Use: Hinged top simply lifts up for access to the catch-tray which traps any larger particles or small tools that may fall through the holes. Seamless integration of back-splash guard on three sides means no crevices to trap dirt, making cleaning easy.
Direct-Drive, High-Flow Blower: The Airflow Systems exclusive high-tech reverse-mounted motor/impeller is the secret to the strong airflow, quiet operation, and compact design of the Easy Bench.
Cost-Effective, Low-Maintenance Operation: Two standard 24" x 24" x 4" panel filters allow for low filter velocity and high dust holding capacity.
Easy-Access Filters: Filters slide in and out from the front, with easy-seal magnetic covers.
Options
Height Modification: 28" and 32" available.
One-Inch Ball Casters
Soft Mat Cover: Made of interlocking tile with 1/4" openings.
Odor Adsorption Filter
Backsplash Extension: Clear Acrylic to 16".
Easy Lift-Out Parts Catch-Tray: Made of high-impact white styrene.
Specifications
Downdraft Velocity: 250 to 1100 fpm.
Construction: 14/16 ga. welded steel, powder-coated white cabinet.
Weight: 174 lbs.
Noise Level (dBA): 65.
Motor/Blower: All-aluminum BCC (backward curve centrifugal) motor rated UL & CSA.
Electrical: 115/1/60, 185 watts.
Filters: (2) 24" x 24" x 4" standard efficiency MERV 11; optional efficiency MERV 13, MERV 14, HEPA
Dimensions
Width: 36.00"
Height to Worksurface: 30.00"
Height to Top of Backsplash: 33.50"
Depth: 24"
Work Surface: 24" x 36"
Leg Space: Height, 26"; Width, 24"; Depth, 14"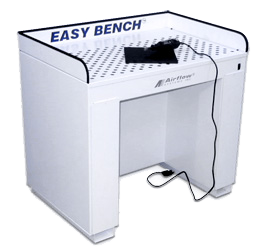 Welding
Grinding
Sanding
Buffing
Brazing
Deburring
Powders
Dust
Cutting
Soldering
Click pictures above to enlarge