Features & Benefits
Continuous-duty blower: Provides longer life and greater reliability.
Non-electrostatic operation: High reliability, low maintenance.
Over 99% efficient collection: Simplifies OSHA and insurance compliance.
Vibra-Pulse® Filter Cleaning System: Cleans filters 75% more effectively than reverse pulse systems.
Easy filter backflush: Push-button operation eliminates cleanup hassle and reduces downtime.
Options
Silencers: Reduces noise by 5 dBA.
HEPA High Efficiency After-Filter: Provides 99.97% filtration efficiency.
Auto-Clean Timed Backflush System: Automatically cleans filters while unit is operating.
Hopper with Floor Stand: For 5-gallonlon pail.
Cyclone Prefilter
Regulator
Specifications
Construction: 14/12 ga. steel cabinet, powder coated
Blower Pkgs (HP): 5.0, 10.0
Noise Level (dBA): 77
Electrical: 5.0 HP - 208/230/460/ 13/12/6; 10.0 HP - 208-230/460/3/60, 27-25/12 amps, std.; 10.0 HP - 140/380/3/50
Dimensions
Width: 28.00"
Height: 68.00"
Depth: 33.00"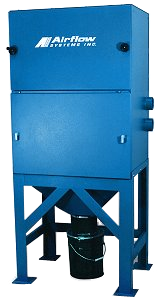 Click pictures above to enlarge