Features & Benefits
Patented friction release pawl-and-sprocket design: Engages positively when positioned, yet offers no resistance when removed.
7-, 10-, or 14-foot lengths: Provides for high-volume collection with maximum reach.
Strong HDPE flat base joint: Easy to install; HDPE bearing material works to seal base without collars or fittings.
Large 13-in. dia. inlet hood with 360° flange handle: Easier hood positioning than single-handle designs.
Durable rounded duct constructed of 21-ga. aluminum: Withstands industrial use, yet lightweight for easy operation. Powder coated inside and outside.
Hi-Flow spiral wire-reinforced hose. Provides superior strength and resistance to sparks and embers.
Options
65 Watt Halogen Light Kit: Improves worker visibility and productivity.
Damper: Shut off air flow when not in use.
Blowers: Several sizes available.
Silencer: Reduces air flow noise for quieter operation.
Wall Brackets: Maximizes installation versatility.
Adjustable Height Floor Stand: Maximum height of 120 inches adds installation versatility.
Filtration Units: HEPA, cartridge, and odor-control filter systems available based on application.
Boom Extensions: System includes steel boom arm, boom arm wall bracket, tube kit, flex hose, and one transition to 8-in. dia..
Specifications
Construction: 21 ga. aluminum tube with spiral wire-reinforced Hi-Flow hose
Arm Lengths: 7 ft. (E-Z Arm® 7E07) , 10 ft. (E-Z Arm® 7E10), 14 ft. (E-Z Arm® 7E14)
Blower Pkgs (HP): .75, 1.5, 3.0, 5.0, 7.5
Nominal Air Flow (CFM): 600 to 1500
Weight (lbs.): E-Z Arm® 7E07 - 36 lbs., E-Z Arm® 7E10 - 40 lbs., E-Z Arm® 7E14 - 45 lbs.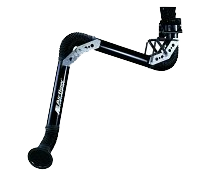 Click pictures above to enlarge