Features & Benefits
High capacity source capture:Simplifies OSHA compliance.
Standard 115V operation: Low-cost energy requirements.
Non-electrostatic operation: High reliability, low maintenance.
Ultra-Seal® filter mounting:Eliminates contaminant bypass of filters.
Vertical design with small footprint: Eases installation, aids draining.
Built-in silencer: For quiet operation.
Direct-drive blower: Greater reliabilty, no belts or pulleys to replace.
Options
Pressure Gauge Kit: Indicates when filters require cleaning.
Chevron® Mist Eliminator: Effectively removes moisture; improves filtration effectiveness and extends filter life.
DOP/Heavy Smoke Filter: Provides 95% efficiency.
Hanging Kit: For ceiling mount.
Slotted Hood.
Positioner Arm: Self-supported positioner arm in 5-ft. and 8-ft. lengths.
.75 HP High Pressure Motor: Raises air flow to 600 CFM.
Specifications
Construction: 18 ga. steel, cabinet coated with oil resistant paint
Blower Pkgs (HP): .50, .75
Noise Level (dBA): .50 HP - 65; .75 HP - 68
Electrical: .50 HP - 115V, std, 7.4 amps.; .50 HP - 220/1/50, 3.8 amps.; .75 HP - 115/1/60, 10 amps.
Dimensions
Width: 32.00"
Height: 29.00"
Depth: 14.00"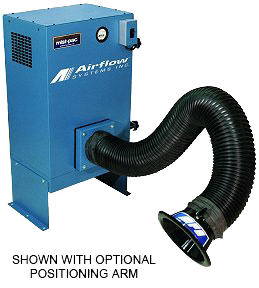 Click pictures above to enlarge