Features & Benefits
Capacities to 6000 CFM:Handles toughest industrial applications.
Class II Belt-Drive Blower:Higher static pressure, longer filter life and greater reliability; spark-resistant.
Non-electrostatic Operation:High reliability, low maintenance.
Ultra-Seal® Filter Mounting:Eliminates contaminant bypass of filters.
High Efficiency Filter Media: Provides maximum effectiveness; low air-to-cloth ratio extends cycles between filter changes.
Prewired to Junction Box: For fast, easy installation.
Options
Pressure Gauge Kit: Indicates when filters require cleaning.
Silencer: Reduces noise up to 6 dBA.
Charcoal Adsorber Modules: Refillable modules control gases and odors.
HEPA After-Filter: provides 99.97% DOP efficiency.
Inlet Plenum: For ducted systems.
Floor Stand: Allows on-floor mounting when hanging mounts are impractical.
Auto Roll Prefilter: Reduces maintenance by automatically replacing dirty media with clean filter.
Specifications
Construction: 16 ga. steel cabinet, powder coated
Blower Pkg (HP): 5.0, 7.5
Noise Level (dBA): 82/76 (with Silencer)
Electrical: 5.0 HP - 208-230/460/3/60, 14/13.2/6.6 amps.; 7.5 HP - 208/230/560/3/60, 20/10 amps.
Dimensions
Width: 49.00"
Height: 27.00"
Depth: 67.00"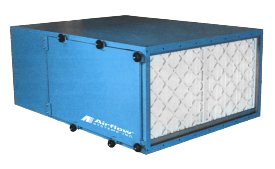 Click pictures above to enlarge