DT-35 Non-Powered, Ducted Downdraft Table
Features & Benefits
Integral collection area and work surface: Draws contaminants away from workers' breathing zone without hindering movement.
14-inch duct connection:For connection to remote collection operation.
14 ga. welded steel construction, finished with chemical and oil resistant paint: Durable, able to withstand industrial use.
Built-in forklift slots: For convenient movement.
Options
Exhaust Blower
Dust Collectors
Center Divider and Side Shields: Improves collection efficiency; reduces contaminant migration.
Enclosures and Lighting: Enhances work area; encourages productivity.
Specifications
Construction: 14 ga. welded steel, powder coated cabinet
Weight (lbs.): 356
Dimensions
Width: 66.00"
Height: 30.00"
Depth: 41.00"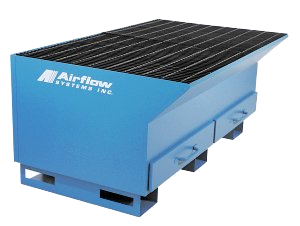 Welding
Grinding
Sanding
Buffing
Brazing
Deburring
Powders
Dust
Cutting
Soldering
Click pictures above to enlarge