Features & Benefits
Integral collection area and work surface:Draws contaminants away from workers' breathing zone without hindering movement; large work area meets range of applications.
Direct-Drive FRP Blower:Higher static pressure, longer filter life and greater reliability; spark resistant; no belts or pulleys to replace.
Non-electrostatic Operation: High reliability, low maintenance.
Vibra-Pulse® Filter Cleaning System: Cleans filters 75% more effectively than reverse pulse systems.
Ultra-Seal® Filter Mounting: Eliminates contaminant bypass of filters.
Options
Pressure Gauge Kit: Indicates when filters require cleaning.
Silencer: Reduces noise up to 6 dBA.
Custom Cartridge Media: For specific applications.
After-Filters: 99.97% HEPA, 95% DOP, and odor-control modules.
Center Divider and Side Shields: Improves collection efficiency; reduces contaminant migration.
Enclosures and Lighting: Enhances work area; encourages productivity.
Regulator
Regain Enclosure: Improves capture velocity in worker's breathing zone.
Specifications
Construction: 10/12/14 ga. welded steel, powder coated cabinet
Blower Pkgs (Aluminum): 3.0, 5.0
Noise Level (dBA): 77/81
Electrical: 3.0 HP - 208/230/460/3/60, 9.2/8.0/4.0 amps.; 5.0 HP - 230/460/3/60, 12/6 amps.
Downdraft Velocity (FPM): 155/195
Weight (lbs.): 850
Dimensions
Width: 70.00"
Height: 33.00"
Length: 48.00"
Table Size: 66.25" W x 42.00" D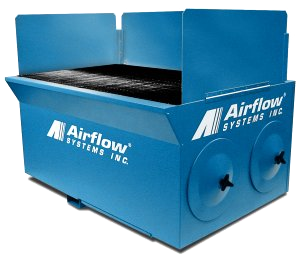 Welding
Grinding
Sanding
Buffing
Brazing
Deburring
Powders
Dust
Cutting
Soldering
Click pictures above to enlarge