Features & Benefits
Complete, self-contained unit:Versatile, easy to use; no installation required.
High efficiency 3-stage filtration: Provides up to 99.97% filtration efficiency.
Direct-drive blower: Higher static pressure, longer filter life and greater reliability; non-sparking; no belts or pulleys to replace.
Non-electrostatic operation:High reliability, low maintenance.
Narrow width design: Permits access and maneuverability in tight spaces.
Plug-in operation with any 115V outlet: Can be used anywhere, no special wiring required.
Options
Self-Supporting Arms: Dual 2.5-in. dia. arms provide up to 105 CFM per arm; Triple 2.5-in. dia. arms provide up to 80 CFM per arm.
6-Foot Self-Supporting Arms: Provides greater reach and 12-ft. collection area.
HEPA Final Filters: 99.97% DOP efficiency.
Adsorption Filter: Refillable filter to control gases and odors; available with a variety of sorbents.
Specifications
Construction: 16 ga. steel cabinet, powder coated
Blower Pkgs (HP): .50
Noise Level (dBA): 61
Electrical: .50 HP - 115V/1/60, 7.4 amps, std.; .50 HP - 220/1/50, 2.8 amps, opt.
Nominal CFM (in.):
Dimensions
Width: 14.00"
Height: 28.00"
Depth: 21.00"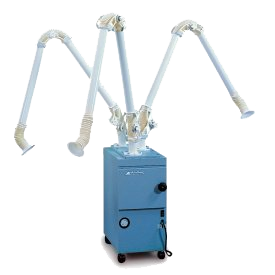 Click pictures above to enlarge