Features & Benefits
High capacity source capture: Simplifies OSHA compliance.
Direct-drive blower: Higher static pressure, longer filter life and greater reliability; non-sparking; no belts or pulleys to replace.
Non-electrostatic operation: High reliability, low maintenance.
Ultra-Seal® filter mounting: Eliminates contaminant bypass of filters.
Vertical design with small footprint: Eases installation, aids draining.
Options
Silencer: Reduces noise by 5 dBA or more.
Chevron® Mist Eliminator: Effectively removes moisture; improves filtration effectiveness and extends filter life.
HEPA After-Filter Module: Includes 95% efficiency multi-pocket filter, followed by 99.97% DOP efficiency HEPA filter.
DOP/Heavy Smoke Filter: Provides 95% efficiency.
Specifications
Construction: 16 ga. steel, powder coated cabinet
Noise Level (dBA): 1.5 HP, 75; 3.0 HP, 80
Electrical: 1.5 HP - 208-230/460/3/60, 5/2.5; 1.5 HP - 115/1/60, 16/8; 2.0 HP - 190/380/3/50, 7.2/3.6; 3.0 HP - 208/230/460/3/60, 8/4
Nominal CFM (in.): 2400/2800, 60 Hz; 2400, 50 Hz
Dimensions
Width: 26.00"
Height: 72.00"
Depth: 24.00"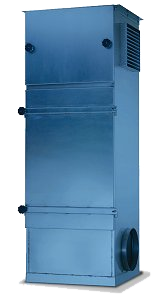 Click pictures above to enlarge