Features & Benefits
Self-contained system: Eliminates costly ductwork and the need for a separate dust collection system.
5 HP direct-drive blower: Improves collection efficiency, increases reliability.
High efficiency filter media: Compact, high-density cartridge filter provides maximum effectiveness; filter changes easily without tools.
Industry's largest inlet grille area: Keeps contaminants away from workers' breathing zone; diffuser design reduces air velocity, reducing operating costs and premature filter loading.
Large-volume dust drawer: Provides for high-volume collection, extends maintenance cycles.
Vibra-Pulse® Filter Cleaning System: Cleans filters 75% more effectively than reverse pulse systems.
Auto-Clean off-line filter cleaning: Automatically cleans filters when unit is shut off.
Built in damper to prevent dust escape during cleaning.
Options
Pressure Gauge Kit: Indicates when filters require cleaning.
Cartridge Media: For specific applications.
After-Filters: 99.97% HEPA, 95%, and odor-control modules.
Welding Package Kit: Includes special cartridges and non-reflective inlet.
12-in. Side Shields Optimum depth for direct contaminant intake and increased collection efficiency.
Factory-Installed Casters: Provides portability, increases system versatility.
Casters: Improves maneuvability and productivity.
Specifications
Construction: 16 ga. steel cabinet, powder coated
Blower Pkg (HP): 5.0
Noise Level (dBA): 77
Electrical: 5.0 HP - 208/230/460/3/60, 13-12/6 amps, std; 3.0 HP - 190/380/3/50 11.3/5.65
Dimensions
Width: 48.00"
Height: 122.00"
Depth: 24.00"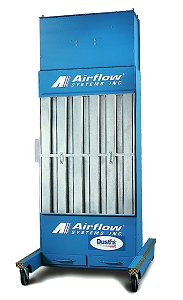 Click pictures above to enlarge