Features & Benefits
2.5-in. dia. arm in 4- or 6-foot lengthsProvides for high-efficiency source-point collection for close work areas.
4.75-in. dia. flanged intake hood:Increases collection area and efficiency.
Strong, extruded aluminum tubing: Epoxy powder coated for for corrosion resistance; lightweight for one-hand positioning.
Triple-joint section design: Provides complete 360° range of movement, allows for positive positioning in any setup.
Heavy-duty stamped aluminum joints: External friction adjustments can handled contunued repositioning with losing position integrity.
Universal wall/table mounting bracket: Allows multiple mounting options to maximize operator productivity and space usage.
Flange-up or flange-down design: Allows table or wall mounting configuration.
Options
Filtration Units: HEPA, cartridge, and odor-control filter systems available based on application.
Blower Packages: Multiple options available to meet application-specific criteria.
Specifications
Construction: 18 ga. extruded aluminum seamless tube with spiral flex duct
Arm Lengths: 4 ft. (E-Z Arm® 2.5 2EO4) , 6 ft. (E-Z Arm® 2.5 2EO6)
Blower Pkgs (HP): consult factory
Nominal Air Flow (CFM): 75 to 300
Weight (lbs.):E-Z Arm® 2.5 2EO4 - 5 lbs., 2EO6 - 6 lbs.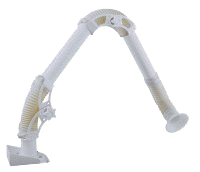 Click pictures above to enlarge