Features & Benefits
Complete, Self-contained Unit: Versatile, easy to use; no installation required.
10-ft. E-Z Arm® High Flow Extractor: Self supporting external arm provides for maximum performance, reduces operator fatigue.
Efficient Source Capture:95%+ filtration efficiency produces cleaner air; system simplifies OSGA and insurance compliance.
Direct-drive Blower: Higher static pressure, longer filter life and greater reliability; non-sparking; no belts or pulleys to replace.
Non-electrostatic Operation: High reliability, low maintenance.
Narrow Width Design: Permits access and maneuverability in tight spaces.
Plug-in Operation With Any 115V Outlet: Can be used anywhere, no special wiring required.
Options
Dual Arms: Provides up to 600 CFM per arm.
HEPA Final Filters: 99.97% DOP efficiency.
Adsorption Filter: Refillable filter to control gases and odors; available with a variety of sorbents.
65-Watt Halogen Light Kit: Improves worker visibility.
Oversized Wheels: Provides additional stability, ideal for rolling over rough surfaces.
Hazard Location Electrical: Groups D, E, F, and G.
14-ft. E-Z Arm® High Flow Extractor Provides longer reach.
Specifications
Construction: 16 ga. steel cabinet, powder coated
Blower Pkgs (HP): 1.5, 2.0, 3.0
Noise Level (dBA): 78 standard
Electrical: 1.5 HP - 115/1/60, 208/230/460/575/3/65, 5.7/5.4/2.7 amps.; 2.0 HP - 208/230/460/575/3/60, 5.7/5.4/2.7 amps.; 1.5 HP - 220/1/50, 6.6 amps.
Nominal Air Flow (CFM):
Dimensions
Width: 26.00"
Height: 66.00"
Depth: 40.00"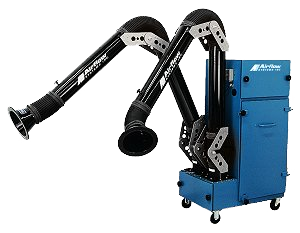 Click pictures above to enlarge